The dedicated experts at Razor Machine can be your partner when you outsource machining processes. While we perform the basics: turning, drilling, and milling; our services extend to include fabrication, design/build, welding, and machining and repair. Every product and service we offer is backed by our driving commitment to quality, service and price.
To get started, use our contact form to request a  quote.
Today's production world can be challenging - difficulty finding employees, tight deadlines that fluctuate wildly, and lean inventory. Outsourcing is the answer to those and more. The Razor Machine team brings over 35 years of experience and is prepared for virtually any challenge. Our goal is to establish a quality relationship with you to be your long term solution for any machining needs!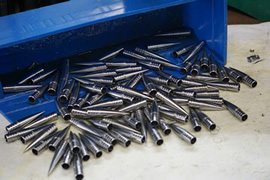 N4214 Highway 57
PO Box 152
Plymouth, WI 53073
Tel: 920-528-7833
Fax: 920-528-7754
Hours:
Mon. - Thurs.: 7:00 AM to 4:30 PM
Fri.: 7:00 AM to 12:00 PM
Sat. & Sun.: Closed